Our Story / History
Back in 1923, Richard Heckmann began the business by making an automated corrugated wall tie machine at a time when steel was first being used to reinforce masonry. In 1958 he handed the business to his daughter Patricia and her husband Howard Curtis, and today their son, Paul Curtis is our product technical specialist with 40+ years of masonry anchor experience.
We've been working hard to earn the trust of contractors everywhere by delivering the best, hardest working anchors and ties possible, and we will do the best we can to deliver our made-to-order anchors and ties to you when you need them.

We understand that when reputation matters, architects and contractors choose the best quality materials for their projects, and they work hard for that reputation. For almost a century we've worked to ensure that you get the best quality anchors & ties that work hard for you.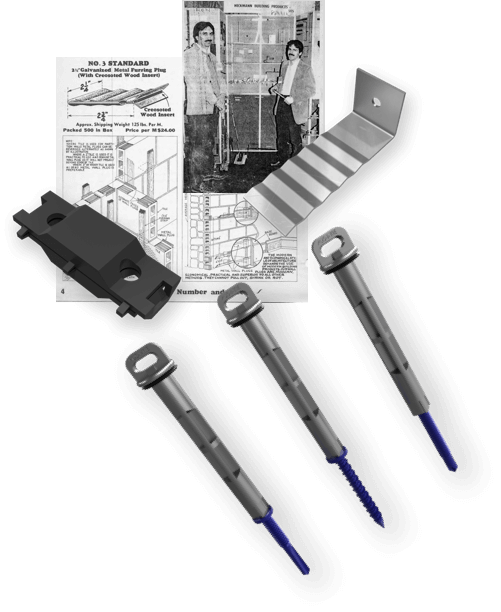 Product Innovation
Because of its innovative design, the Pos-I-Tie® family works for a variety of applications and an assortment of ties that we've led the industry in designing and manufacturing.
With millions sold for thousands of construction projects it's no wonder that it's the #1 most specified veneer anchoring system and the BEST solution for attaching masonry veneers to backup walls.
At Heckmann we've been innovating materials, designs, and applications for 100 years and it's no wonder we're the Contractor's choice for masonry anchors and ties.
Our Catalog
Browse our comprehensive catalog of all of Heckmann Building Products which also include our high-performance anchors, TOGGLER® and Wej-It® for hollow walls and concrete.