The Original Pos-I-Tie® Brick Veneer Anchoring System (75)
Part Number: 75
The Original Pos-I-Tie® is a two-piece system for attaching brick and stone veneer to various existing backups. It simultaneously penetrates the exterior insulation, makes positive contact with the backup for transfer of lateral loads, and seals the hole in the insulation with an EPDM washer under the barrel head. Introduced in 1985, The Pos-I-Tie® was the first barrel screw in the industry and has been successfully anchoring veneers for 35 years.
Standard sizes for sheathing thicknesses of 5/8", 1", 1-1/2", 2", 2-1/2", 3", 3-1/2", 4" and 4-1/2".
Custom lengths beyond 4-1/2" are available.
Pos-I-Tie® 3/16" diameter Wire Triangle Ties available standard in lengths of 3", 3-1/2", 4" and 5" in hot-dip galvanized and stainless steel. Custom wire tie lengths are available.
Resources
Features and Benefits
Incorporates a barrel-screw piece for easy installation using an ordinary drill with a special chuck adapter
Integrated screw prevents substitution and use of inferior screws
Doubles as an insulation fastener and a masonry anchor, reducing the number of penetrations in insulation
Installs safely with a rounded head and round chuck adapter, keeping fingers out of harm's way from spinning wings
Does not require an additional washer between gypsum and rigid insulation
Materials/Finishes
The 3/8" diameter barrel is manufactured of ZAMAC 2 - a 92% zinc alloy
Screws are heat treated and co-polymer coated for maximum corrosion resistance
Wire ties are available in hot-dip galvanized after fabrication or stainless steel
Related Products
Compatible with all back-up walls
Self-Drilling Screw
Used for: steel stud 18 ga – 14 ga
Concrete/CMU Screw
Used for: concrete, CMU, wood, brick, ICF
Structural Screw
Used for: structural steel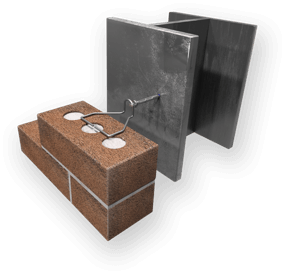 Barrel Lengths
Thermal-Grip Plastic Washers
Learn More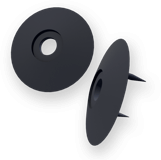 Original Pos-I-Tie Installation Tool
Learn More